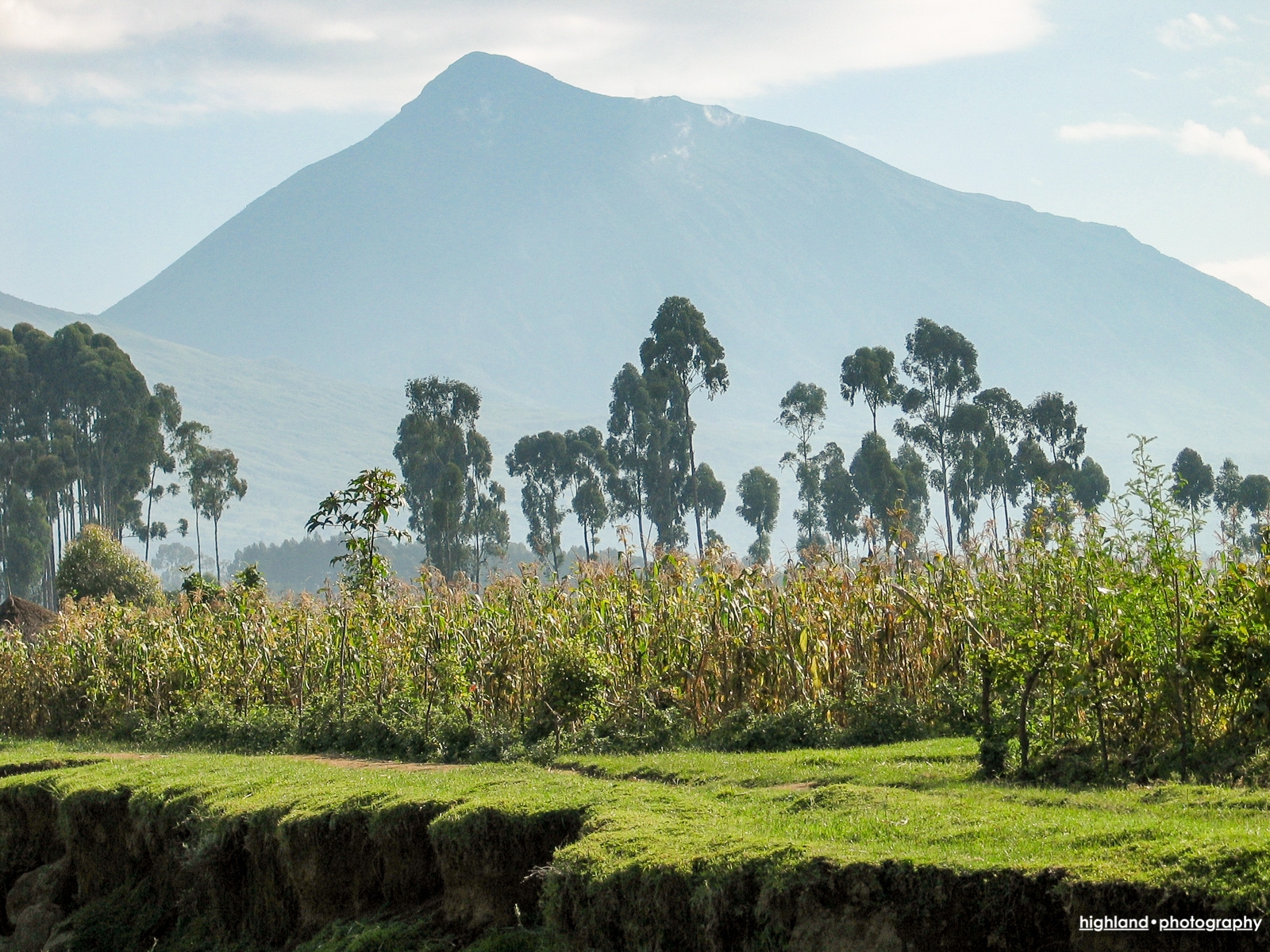 G'day,
Rwanda is a compact bijou countryette by European standards, let alone those of Africa. Its total land area is only about 26k km2 – much of it vertical. I think that makes it smaller than Scotland. Whatever, it shouldn't take more than about three hours to drive, as the crow flies, from any one side of the country to another. An African crow however, is a bird of a very different sort, so let's allow a day or two if not traveling along one of the major arterial routes. Which we were, so it's only about 96km from Kigali to Ruhengeri, including a climb over a fairly respectable mountain range. The going time for the journey is an hour-and-a-halfish, which is Formula One pace by African standards. Vince is regarded as a 'pace' driver by the locals, both ex-pat and Rwandese, which is a little worrying. Turns out that he's no more than mildly insane, just hates stopping. And guess who kept wanting to take photographs of the latest vista? In case you hadn't already gathered, this is a stunningly beautiful country.
Oh, and there's a fuel crisis in most of Central Africa – the main pipeline from Mombasa, feeding S Kenya, Uganda, Tanzania, Rwanda & Burundi has fractured. So we're into kilometre-long queues at filling stations, which makes the trip look increasingly unlikely. That's until we discover that diesel is unaffected, and the Pajero drinks the stuff. Except that the only way to get to the diesel pumps is through the queues… So a local colleague is bribed to join the dawn chorus of the gasoline-dispossessed and turns up a while later with a full tank. And a full boot – he's had the very good idea of also filling up a 20 litre jerrycan and sticking it in the back. That was until the top came off on the dirt road up to Vince's. Now it's bad enough following a smelly diesel – being sat inside a car that's had it's carpets saturated with the stuff promises to be a breakfast-bouncing experience. Nearly, but not quite – a housekeeper with Omo and determination is a wonderful thing – we simply had our nostrils reamed out by industrial detergent fumes. An improvement, at least.
Whatever expectations I had of the road, this wasn't it – an immaculately surfaced ribbon of smooth tarmac, twisting and turning through curve after bend after recursive hairpin into the mountains. This would definitely qualify as one of the world's great biking roads, were it not for hazards that include the massively overloaded local minibus taxis, which save on tyre wear by cornering on their door handles, while doing something that should be deeply disturbing to Newton's ghost. (I did originally mistype 'goat' there, which would have neatly covered another local road obstruction/incipient kebab). Then there's the semi-synchronised bus-overtaking-petrol-tanker-overtaking-lorry-overtaking-bicycle-overtaking-cow-overtaking-ant scenario, often happening in both directions simultaneously. The semi- bit simply means that it usually works. Usually. I'm also being slightly economical with the observation on the road surface – it's an 80:20 thing, the 20% being the non-existent bit, with it frequently passing between the two states several times in the course of one hairpin bend. Most impressive are the parts where the road has collapsed, been landslid upon or blown up, where it simply zigs onto a compacted bit of whatever the local landscape offers. At such times, brakes are for wusses.
I do however keep fantasising about blagging a bike for an expedition – possibly time for a "Dear Ducati…" letter. Then I remember that the Gorilla Fund have in fact bought a motorcycle for the Virunga Wildlife Clubs staff. OK, a brakeless Yamaha 125 ain't quite the same, but hey – there's one in Ruhengeri. And how do I know it's brakeless? Right.
As we chug up into the mountains, we pass through a complete textbook of plants at altitude –
heavy forest and maize crops low down, giving way to the ubiquitous curse of the introduced eucalyptus, banana and tea plantations, copses of strange yellow wobbly things that appear to be clumping together for mutual protection and then some rather splendid Norwegian-style pine forests. Cresting the mountains, we drop down a few hundred metres onto the lava plain of Northern Rwanda, and pretty much straight into Ruhengeri.
Ruhengeri is the largest town in this part of the world, and hangs around in the middle of a fertile lava plain on the very edge of the Virunga mountains. I'm going there to set up new computers at the DFGF office there and at the Virunga Wildlife Clubs HQ, then to teach people (using my best Franglais, with translation into French, Kinarwanda and, occasionally, English) how to use the things, starting with basic computer skills and working up to digital video editing. In three days. Fortunately, they're keen. One other thing: Ruhengeri is the jumping off point for trekking into the Virungas to see the Mountain Gorillas, something on the upside of desirable.
A couple of words about the scenery: Serious stuff. These volcanoes lurk, big time. Let's get this in perspective: the Alps top out, rather unimpressively in my humble wossname, at about 4500m, with Mont Blanc. Outside of the Himalaya, the Andes and a couple of bits of the Rockies, there's little pointy scenery in the world that exceeds 4-5000m. The highest peak in the Virungas reaches 4700m, so the scenery here is very very pointy indeed. It's not just a question of being in the shadow of one dominating and smugly ostentatious photogenic mountain (cue Zermatt), but of sitting in the middle of a flat lava plain, encircled on three sides (of a circle? Hey, you know what I mean, already!) by no less than six 3000m+ peaks, these being, clockwise from the West, Karisimbi, Mikeno, Bisoke, Sabyinyo and Gahinga and Muhabura. All volcanoes, and all resembling child's drawings of the Platonic prototype.
That's except for Sabyinyo, which looks like a whole bunch of such drawings, all crumpled up and carelessly dropped in a heap. There's some world-class trekking and scrambling there. Rather, there once was, and is just now starting up again, but it's not the easiest of jobs for the mine clearance teams. For the moment, anywhere off-piste would be a case of "trekking roulette" So following the local guides is strongly recommended – a wisdom I shall, for once, heed…
Karisoke, Dian Fossey's original research station and the spot where she's buried, sits somewhere on the saddle between Karisimbi and Bisoke. It's still operated by the US branch of DFGF, despite having been through several derelictions, burn-downs and blow-ups over the years – assorted guerrilla groups (the less evolved sort) tend to pass through every so often, nick the computers, then throw them away when they discover that they can't receive CNN or The Disney Channel.
Having discovered that our preferred hotel, the Muhabura, was full for the first night, we ended up at a brand new guest house attached to the local Episcopal mission. All very well, but a 10pm curfew and no beer made for a early and sober evening. We made up for that after moving to the Muhabura the following morning. A remarkably early morning too – I was woken at about 6am by loud and repetitive noises, remarkably reminiscent of a large number of people slowly hitting rocks with other rocks. Curiosity got the better of me and I opened the curtains. To see a large number of people sitting around outside, slowly hitting rocks with other rocks. Turns out that they're extending the mission, and when you live on a lava plain, job number one is to break up the local scenery to both clear the ground and provide the building materials. There's clearly an ecclesiastical arms race going on locally – Ruhengeri sports a very shiny, very new and extremely large Catholic Cathedral. So the Anglicans are now building a larger one just down the road. To what end, precisely?
The hotel of preference in town, the Muhabura, is an oldish place, with a splendid row of fairly recent bullet holes across the rather naff palm'n'beach mural on the dining room wall. I also discovered that my bed sported a fine line in 101 Dalmation sheets – tasteful. And a very large cast iron bath, with a plentiful supply of hot water. Bliss.
That morning was spent not having a hangover and visiting a couple of the development projects that DFGF sponsors: a training centre in Imbaraga, where local farmers are being taught sustainable agriculture and how to market their produce and then a Batwa (pygmy) village in Kinigi.
These are the area's original inhabitants, with unrivalled knowledge of the vegetation, terrain and animals of the area, yet they were forcibly dispossessed of their ancestral lands when the Virunga park was created in 1925. Since then, they've survived (just) on the edge of society, without land, status or opportunity. The DFGF project has bought them land and helped them get started on growing income-generating crops. In this case it's maize, which, as it grows to about 3m high, immediately and with desperate lack of correctness brings to mind the very, very old joke about the Fukawi tribe. And if you want that one explained, you a) missed out on the basics of childhood humour and b) now have all the information you need to work it out.
Now for Mountain Gorillas. Big things, eat shoots and leaves. Not many left. And unfortunately absent – I'd been planning to go see Group 13, one of the 4 family groups that are habituated to human presence – group 13 also being the one that contains Amy (Akago), the gorilla featured on the DFGF posters and their adoption scheme. Good stuff, except that the week I'd arrived, they'd gone walkabout with their new Silverback, somewhere in the direction of Congo. In gorilla tracking history, two other groups, 9 and 11, have previously vanished into the uncharted depths of the Congo side of the Virungas, so it was a mere extension of the arithmetic sequence when 13 disappeared in a similar direction. The fact that they were the group I was scheduled to go see was a mere detail in the cosmic scheme of things. It did however completely bugger up the schedule, to the point that, as I was going to be in Congo next week anyway, there was a plot afoot to talk to the local army commander (without being entirely sure which army-de-jour happens to be in control) and go into the Virungas from the Congo side with a military patrol in search of Amy & Co. Less a needle in a haystack, more a gorilla in a forest the size of Scotland. But with fewer bagpipes and more guns (probably an improvement as regards the Geneva Conventions). That was as of this afternoon (Friday).
Sitting with Emmanuel (the Ruhengeri DFGF manager) and François in the bar of the Muhabura Hotel the same evening, I ran into John, one of the local employees of Volcanoes Safaris and asked him, more in the spirit of depressed irony than anything else, whether there was any news of Group 13. Straight answer: "D'accord – they reappeared this afternoon". Cue frantic telephonic contact with everyone from the ORTPN (Office Rwandese de Tourisme et des Parcs National) to the Pope. I now think – that's "think" – I'm back on for Sunday.
Emmanuël and François are taking me out on the town in Ruhengeri this evening – no idea what to expect…
…Several hours later: that was fun: A small group of us ended up in a pleasant and characterful local bar – bamboo walled courtyard, lighting more subtle than the usual fluorescent strips & Zouk music – serving beer (cold or hot, according to demand) and Irish Potatoes: enormous and excellent (non-famine) spuds, halved and fried – the ultimate potato wedges, served in a huge shared bowl, with many flame-grilled joints of levre (hare), napalm-strength Burundian chilli sauce and the compulsory Mutzig (I'm staying off the Primus). This is owned, and brewed locally, I discover, by Heineken. There goes the romance of travel and discovery. So bring on the gourd-brewed banana beer, now please. Whatever else, this trip has convinced me of the rôle of beer as a universal cultural lubricant, transcending all cultural and linguistic barriers, largely by allowing us to cheerfully make complete, utter and (most importantly) mutual fools of ourselves in the pursuit of shared understanding. There seem to be far too many po-faced socio-academics who regard it as noise rather than aid. They should get out more. Faustin, one of the people I was with, runs MEA, a local sculpture project supported by DFGF – he's got almost no English, but my improving French did enough to get us started – common interests and arm-waving kept the conversation going. That's when I discovered that he's a Masters in Fine Arts and spent seven years living in Kiev, at the conservatoire there. That's a few more assumptions kicked into touch… I also had to explain a major news event on the day, relayed on satellite TV to the football-crazed Rwandese: the Arsenal streaker. This was something quite beyond their comprehension – far beneath the dignity of the Africans and the Belgie-Franco-Africaines. I had to agree.
It's the following morning, and I'm finishing this off as I'm having breakfast on the terrace of the Muhabura – the sun is burning the early mist off the mountains and the hotel's creaky old music system is blasting opera across the town – nothing simple or easy, you understand – sounds like Strauss's Elektra, not yer average easy-listening-best-of stuff. I'm instantly reminded of Fitzcarraldo – the Herzog/Kinski film where a crazed German is trying to build an opera house in the middle of the Amazon jungle – part of his mission involves hauling a substantial cruise boat over a mountain, for no apparently good reason. At this point Praveen, boss of Volcanoes Safaris, wanders onto the terrace. He pauses to take in the music, turns around and says, "My God, this is such a Fitzcarraldo moment"… We talk over breakfast and he describes the scene a couple of years previously, when they'd been building one of their camps in the Virungas and were having to haul truckloads of mud for the bricks up from the plains – wrong type of mud in the mountains, apparently. Trouble was, it was El Niño weather – pouring down, and the battle was to get the mud up the mountain, dumped and then used, before rain and gravity took it all the way back down again. Now that is what I'd call a Fitzcarraldo moment.
Now, dilemma time – do I send this now, or wait until I've been gorillaing? On balance, I think now – if I see the group, it'll deserve a ramble all to itself and, if I don't, I'll be a grumpy bastard for days. And please excuse temporal inconsistency and inexactitude – I tend to type notes as they occur to me, with but a cursory pass for consistency before sending, so you'll find that the 'might do', the 'am doing' and the 'did' become just a tad confused – our language really hasn't evolved for this sort of thing. Having excused myself on tense, I'll now do likewise for time – please ignore computer clock insanity and go by episodic title – out here on the edge of far forever, strange things happen to space and time. Alternatively, I screwed up the clock setting on my Mac after the battery got bounced out.
Next instalment: Gorillas. Or sulky silence. You should be so lucky.
R