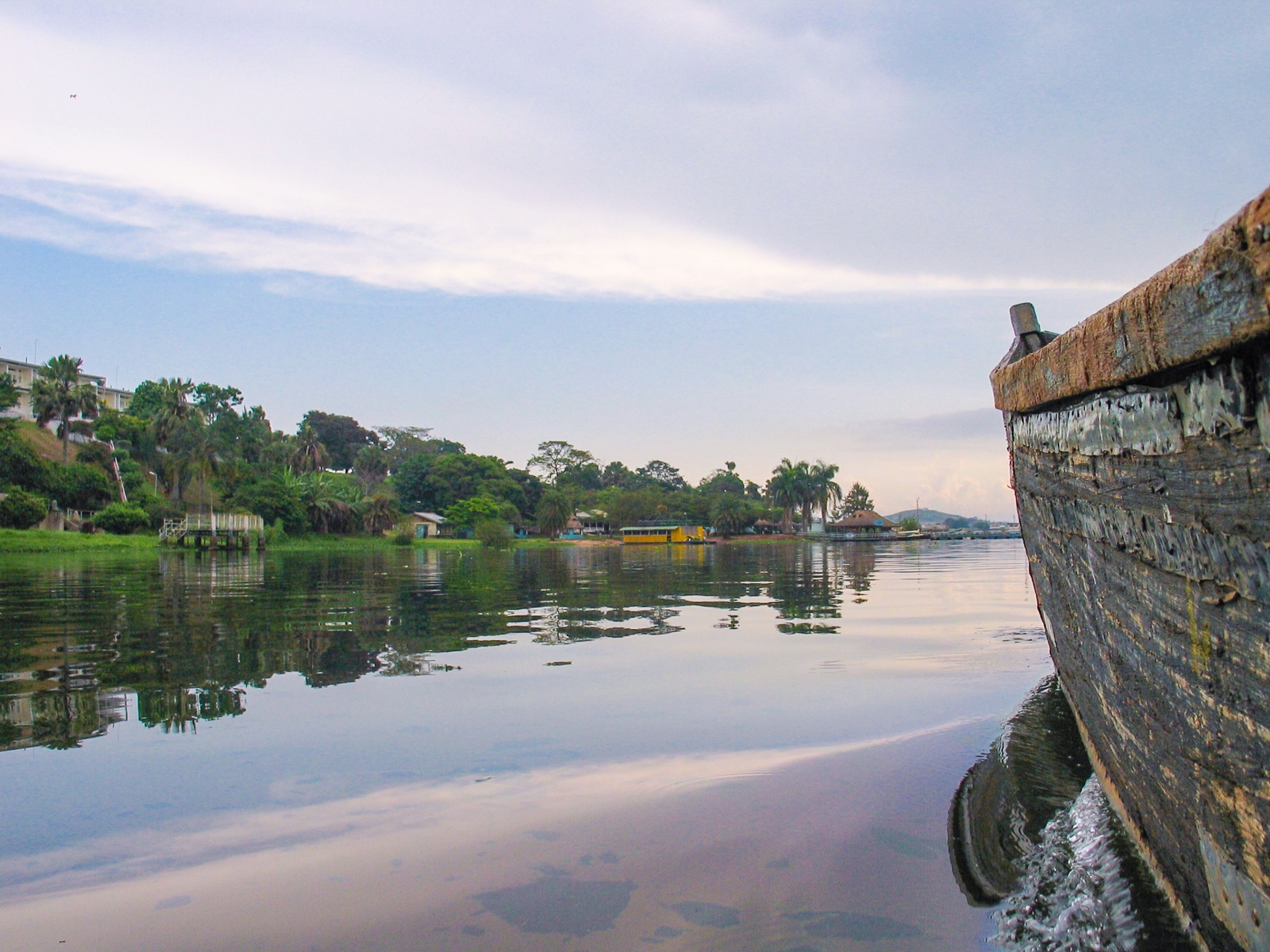 So this is it: It's a cold, wet Wednesday in January and I've packed my bag, having forcibly reminded myself not to pack thermals and fleeces, but go large on t-shirts, sun screen and Lomotil. And as long as I haven't mixed a random cat into it, I'm ready to go – a month in East and Central Africa beckons, so I reckon I'll just have to grin'n'bear it.
For those I haven't already bored to oblivion (hello, anyone out there?), the theory is that I'm going to do information agey things for the Dian Fossey Gorilla Fund, to take a few pics and – lest I could forget – go play the very amateur Attenborough with some mountain gorillas. For the primate pedants amongst us, that's Gorilla gorilla berengei – the 600-strong remnant population of the Mountain Gorilla, the centenary of whose discovery by Europeans was commemorated last year. That's commemorated rather than celebrated, given that Capt. Rupert Berenger's approach to animal identification was very much of its time – he cheerfully shot a couple of them and had them dragged home for investigation over a cuppa. We don't do that any more – I hope.
First stop is Kampala for a few days, via Nairobi: to find out about the rollout of various telecoms services across Uganda and neighbouring states – the gorillas, bless 'em, hang around on the borderland between Southern Uganda, Rwanda and the Democratic Republic of Congo (ex-Zaire), so anything that improves comms between different DFGF offices, field staff when mobile, the London HQ and the rest of the world can only be a good thing. It does look like Bwindi might get DSL before Hindhead. Amazing coincidence number 1: I discover that my friend Isabel is going to be out in Kampala on the same dates, running a workshop for local communications companies and regulators – everyone I need to talk to in one room at exactly the right time. And someone to go see the Kampala nightlife with. Which we did – I think – everything did get a little hazy…
First though, I had to get there: If Heathrow check-in was a breeze, once I'd left a corner of my big bag on the trolley so that it came under the weight limit, then security was a hurricane: the conveyor belt stopped, went forward, went back, then spat out my baglette. The staff looked politely confused, took ALL my toys out, looked more confused, then asked me what they were. This took some time: the cameras were reasonably obvious, Palm easy enough – GPS, iPod, Microdrive, folding tripod, WaveLAN card and Bluetooth adapters less so. And, "What's that?". "My watch – can't you tell?". That was before we got onto my rucksack with laptop and more cameras. And I used to think I had Wednesdays sorted.
Kenya Airways left on time, landed early and have since repeated the process multiple times. No complaints there. A minor Frank Spencer moment of mine on the Nairobi leg left my and the fortunately empty seat next to me well saturated with gin, tonic and little cheesy biscuits (soggy remains of). A slightly damp and sleepless night on the aircraft came to a spectacular end with a breathtakingly gorgeous ribbon-of-fire dawn along the coast of Kenya, just about the point we crossed the equator – a first for me. I was slightly relieved that no-one threw me overboard then forcibly shaved me (or whatever is PC these days for crossing the line) – maybe they decided I'd already made my own gesture with the gin. A quick change of planes in Nairobi, an hour or so's flight across Lake Victoria (lake? they call this a lake?!) and we're descending through the morning haze into the green lushness of Entebbe. It's about 40km from Kampala, so there's ample time to get reacquainted with the generic developing world attitude towards the combination of life, death and the internal combustion engine. Cultivation of a certain Zen fatalism is required, and rapidly.
I've been booked into the Speke Hotel – not large, but apparently the centre of life in Kampala. This is a good thing – beautiful wood floors, four or five outdoor restaurants, a club in the grounds and a ready supply of hot & cold running cocktails. I also soon discover the local early evening entertainment: Pick table and order cold beer of choice. Then wait, having made sure that large areas of the adjacent pavement have been dug (or blown) up, and that a few storm drain covers have been tactically removed. At some point someone is bound to wander along, camera in hand, doing the full Fotherington-Thomas bit:  "Hello trees, hello flowers, hello sodding great vulture in the tree". Attention definitely elsewhere – the rest being inevitable, with style marks awarded at the discretion of onlookers. Yes, of course I bloody did – and there's nothing like a befeathered heap of interested lurking menace over your shoulder as an incentive to get off the ground quickly. Pah.
The comms workshop was held at the Nile Hotel, just up the road (pavements permitting) – a fine venue, with just one obvious problem: the week-long fundamentalist revival meeting going on in a huge tent in the grounds. Nothing gently ecumenical about this lot – hellfire, brimstone and damnation at 110 decibels is one thing; having it from 7am every day is something else entirely. And when they get onto, "righteously smiting the ungodly", I start to take it personally. All the bodies gathered together did however do one thing – create a huge thermal above the gathering, so I felt that the sight of dozens of non-denominational vultures circling above the event had a certain fundamental rightness to it.
First night, first meal: The Ethnic Frontier restaurant at the Speke just had to be done: great, great Indian food, with just one crisp, green succulent chilli sitting there on my plate, radiating Carrollian temptation. First taste was good – v light and flavoursome, with just a piquant overtone of the horror to come. Then, like a good wine, it developed: "I'm getting gooseberries… …no… a little hint of petrol… …and someone's just ignited the petrol…" It all became a bit of a blur at that point. I'm writing this at breakfast (on the terrace, naturellement), and it's still letting me know that it didn't give up without a fight. And the local banana-based gin is Waragi – not, please note Isabel, Wasabi, although after drinking a few glasses, I'm not so sure she wasn't right. An aromatic little number, which comes in plastic sachets, presumably because it would etch the glass of a bottle.
Friday was meetings in the morning with some of the most hospitable and helpful people I've ever had the fortune to meet – from Uganda, Kenya, Tanzania, Ethiopia, Eritrea and other points South. The Ugandan Communications Commissioner wound the meeting up for lunchtime, and I then blagged onto a coach trip to the Kasubi tombs of the Kings of Buganda (Uganda is apparently an Edwardian spelling mistake) where, with the greatest care and respect, I entirely failed to observe protocol: I stood up when I should have sat down; I sat down when I should have stood up; I got confused by a translation from Kiswahili and promptly stepped into the area of the building reserved for the royal wives. Unfortunately, they were still around. The shrine is both a huge version of the trad East African clan hut and a party venue for the current king and his 84 wives, who live in the smaller huts around the compound. I'm not at all sure about all this inviting of the ancestors to one's parties –  it's bad enough when your parents are around.
Friday night was time to head downtown with Is and Bill, an entertaining bloke who's a telecoms regulation consultant working with the Commonwealth Telecommunications Organisation. Sam's restaurant did great steak, good wine and cost two-thirds of not very much. Enlivened by some localish merlot-a-like, we then hit the town, ending up at the club in the grounds of the Speke. We'd met the DJ earlier and he'd suggested we come along – having a bop was an option for all of 10 seconds – one look at the quality of the dancing and, observing that the one white guy on the dance floor was making a complete prat of himself, we grabbed a table and became mere observers of the spectacle. Walking back between hotels at 3am showed that the local tourist authority is obviously concerned that all its visitors are enjoying themselves – at least I assume it's they who employ all the solicitous young women who wait around on the corners in the evenings to make sure that everyone is "having a good time" and who offer to show visitors around. Very considerate and public-spirited of them.
More seriously, although Uganda has been one of Africa's success stories economically for the last decade, the combination of the fallout on tourism and foreign investment from 9/11 and the rising toll of HIV-related deaths destroying families is making it harder and harder for anyone to make a living – while the international trade will, eventually, recover, it's very hard to see what's going to happen to those countries where HIV/AIDS has effectively decimated the working-age population – we're sufficiently concerned about an aging demographic in the UK and the provision being made for them: now imagine a developing country where that shift is happening almost overnight, without there being any national infrastructure to cushion the blow. If anyone deserves to get through this, it's the Ugandans – I don't however see how, as the only obvious beneficiaries of the whole thing appear to be the many delegates attending multiple HIV conferences and colloquia at posh hotels in Kampala.
Now, after a night like that, whose idea was it to arrange a pickup at 7:30 am to go visit Jinja, Uganda's second city?  Ouch. Jinja is about an hour-and-a-half from Kampala and is at the point where Speke stood on a bluff overlooking Lake Victoria and realised that the river he was watching cascade out of the lake was, in fact, the source of the Nile. It's also the point where we staggered into the Jinja Sailing Club and refused to do anything until several pots of tea had kicked us into something approximating life. We then hired a boat from the club and wobbled off across the lake to do the Nile thing. Stunning light over the lake and more bird life than I've ever seen outside of Sri Lanka. Then came the mad rush back to Kampala, thence to Entebbe, Nairobi and now onwards to Kigali, capital of Rwanda. Of which, much more later.
And apologies for sending this out as a circular – outgoing bandwidth is a little limited and slow here, so if it's all tooo boring, please do just bin it.
all the v best
Richard