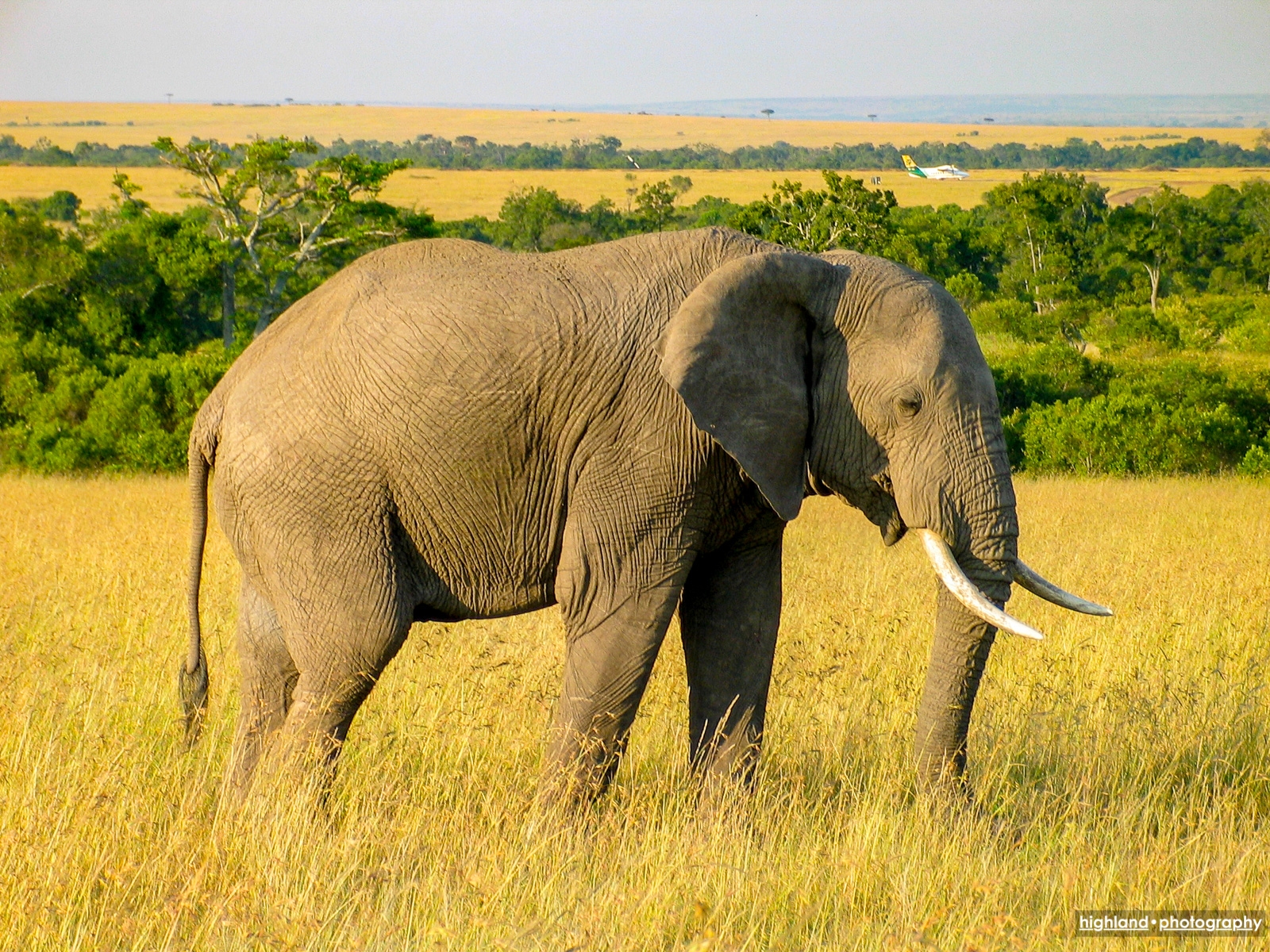 And here's the closing chapter in my travels, for the moment at least: A couple of days hanging around in Nairobi, meeting up with Greg and Jillian of the DFGF and I'm about ready to head off for a bit of the rough stuff – camping in the Maasai Mara and doing the game-spotting bit. In the meantime, I've given myself a taste of what's to come, by spending a pre-breakfast morning in the Nairobi National Park, just on the outskirts of Nairobi itself. The park gives me a good sight of lion, zebra, giraffe, black rhino and rock hyrax, all set against the backdrop of Nairobi rush-hour smog.
This last is spotted basking on a rock – about the size of a tubby normal mog, it is in fact the closest living relative to the elephant. While I'm lining up a shot, a random tourist bod wanders up, looks over my shoulder and exclaims, "Whaat's thaat? A rat?". My reply of, "No, an elephant", did not play well, especially when I insisted.
I'd originally been looking for a cheapo truck'n'tent trip, until I started phoning around the posh travel companies to see what sort of deal they'd do, given the fall-off in tourism following recent events. After a bit of negotiation, I still end up on a camping trip, albeit in a camp with fixed tents, four-poster beds and, er, a personal butler. Roughing it never sounded so good.
Before heading off, and as a fitting set-up for a safari, I head off with Greg and Jillian to Africa's most famous restaurant, Carnivore. Rather than catering for vegetarians, it tends to serve them: gazelle, antelope, ostrich, zebra, eland, crocodile, all lovingly skewered and barbecued on Danté's own barbecue. I eat much too much. The following morning, I'm relieved to see that the plane for Olkiombo is an utterly robust and reliable Twin Otter – mainstay of bush aviation worldwide. With its two engines it ought to be able to carry me and my bag. Just. But it doesn't have an on-board toilet. This may require concentration – weeks spent trolling about the wastelands of rural Central Africa and I get a stomach bug only when I get back to Nairobi. Bleedin' typical.
With the change of mode as I move from traveller/worker to tourist, this is in danger of turning into a what-I-did-on-my-holidays drivel. So I'm going to keep it as short as reasonably possible (for me) and incite boredom and homicidal envy later with the photos – all I'm doing here is the standard camping safari in the deepest reaches of the fabled Maasai Mara. No big.
Having been bounced into and out of different airstrips on an exotic airborne bus ride into the Maasai Mara (too literally, "the shrubbery of the Maasai"), I arrive by land rover at the Mara Intrepids camp, artfully concealed in the forest on a bend of the Talek river. Gorgeous place, with five-star catering and a bar which overlooks the river and the setting sun. Looking good so far. The format is three game drives in the Landies each day, the first being at 6am. There's also the chance to go walkabout with some of the local Maasai guides. It takes me a while to accept that all of this is real, not a theme park – everything is just too damn well choreographed – Central Casting is obviously right on form. "Places, everybody – and, 3-2-1, go with the Impala for ten minutes, then roll the lions stage right". The cast then back off for a while, clearly to build the dramatic tension, and then, "Wait for it, wait for it – and… …cue hyaenas and elephants – and tell that ostrich to put the damn cigar out – want to spoil the image?".
The only thing missing was the great herds of Wildebeeste sweeping majestically across the plain – I'm a couple of months too late for that. Normally, after the Wildebeeste have been through, there's no grass left – just scorched earth that doesn't give much of the game a living. And makes lurking successfully a major pain for the predators – ever seen a leopard trying to hide behind a thistle? This year however, there's been unseasonal rain, the grass has shot up again, the game are out, browsing and nervous and the leopards, cheetahs and lions are lurking happily. Although I did spot my first lion by seeing four dirty great yellow paws sticking straight up out of a patch of grass – so much for the mighty hunter of the plains bit. So enough of the narrative and on with the list:
Dik-dik: Tiny antelope: one per cocktail stick; Bat-Eared Foxes (family of); Spotted Hyenas; Topi: overwrought Russian/Israeli actor; Hartebeeste: like Wildebeeste, but rustle; Thomson's Gazelle (snack food); Impala; Common Zebra (bums of); Elephant; Waterbuck: apparently not favoured as hors d'oeuvres, as they give lions hairballs; Lion; Secretary Bird: improbable bird-of-prey – walks everywhere, kicks snakes to death; Black-Shouldered Kite; Something which sat in a bush and went "Gleep", very loudly. Ostrich; Cape Buffalo (grumpy); Maasai Giraffe; Bushbaby: ridiculously cute, natural habitat apparently rafters of restaurant; lives on stolen bread rolls and marmalade (mine); Grant's Gazelle: larger snack. Lots more boids; Wildebeeste (one, confused); Ugly white people; Hippo: They sink, they walk along the bottom. You can tell where they are by the row of bubbles. These are not coming from the snout end; Cheetah: I'm very happy now; Leopard: At night, up tree that gets baited with dead thing; Olive Baboons; Dwarf Mongoose; Banded Mongooses – family of, swinging from my tent ropes; The Kenya Express: the ever-running warthog, who's always in a panic about something, often about the fact that he's forgotten what he's panicking about. So he stops to work it out, at which point the lion is just… …there. The only thought that a warthog therefore needs to hold is that he should never stop panicking, and sod the reason. Disney hardly had to caricature these things for the Lion King. Apart from the Noo Joisey accent, that is.
Four days later, and I'm bouncing through the sky on my way back to Nairobi and a return to cold, soggy old England. Now here's the second great coincidence of the trip: Turns out my brother is landing in Kenya on the same day I fly out. He lives 30km from me, I haven't seen him in eight months and neither he nor I have ever been to Kenya before in our lives. It does however appear that we'll probably miss by a few hours (we did) – I fly back into Nairobi after he's arrived and headed off to wherever he's going.
There's yet a third: while sorting out the safari booking, I'd seen an article by an outfit called Friends of Conservation, who've set up a code of conduct for tour operators, to help ensure that the resident wildlife isn't stressed or overhassled by tour groups. Cheetahs especially suffer, being daytime hunters reliant on cunning, eyesight and speed – a lifestyle that is not helped by being continually circled by vultures in minibus form. So I send a quick note to the e-mail address given, to ask if the bunch I'm planning to go with are OK. The reply is very helpful. It also ends, "…probably just a coincidence, but you wouldn't happen to be the Richard Harris who used to advise the Dian Fossey Gorilla Fund?". It's signed by a friend of mine, whom I haven't seen for several years – the last time being in Café Pacifico in Covent Garden. I'd no idea which continent she was now on, let alone what she was doing. Unfortunately I only get the reply in the cybercafe at the departure gate on my way back to London. So a beer will have to await the next trip.
And I'm sure that there will be one. Maybe to different places and doing different things but, in case you hadn't already worked it out, I'm just a bit hooked on Africa. And that, for now is that. And if anyone has got this far without simply binning the whole tedious epistle, please accept both my congratulations and my advice that, whatever you're on, perhaps you should up the dosage. Or come off it altogether.
Thank you and goodnight from 36,000 feet over Libya. Libya? Now there's a thought…
love to all
Richard